The Old Hat Band
Old Dogs…New Licks!!
T. Gozney Thornton –
Rhythm guitar, harmonica & vocals
Jr. "Duck" Cortez --
Key Boards
Robin Leary –
Lead guitar & vocals
Manuel Burciaga –
Drums & Percussion
Joe Dianda –
Bass guitar & vocals


"OLD HAT BAND" … a pack of "Old Dogs" with a bag of "New Licks" has a tasty Tex-Mex sound that gets people on their feet and dancing the night away. The old dogs play what they call "Rockin-Tejano-Country", an eclectic mix of Country, Rhythm & Blues and vintage Rock & Roll, with a dash of Tejano, served up hot and spicy like a good bowl of menudo. The band is made up of veteran road musicians who have "paid their dues" in the honkytonks and juke joints of America. T. Gozney hails from the c-OZ-mic "Austin Scene" of the 70's and has played from coast to coast. He had featured cuts on the 1975 Kerrville Folk Festival album, KOKE FM's "Best Bands in Austin" album, the official state sesquicentennial album, "The Fathers of Texas," singing a duet with Ray Wylie Hubbard, and recorded his "Pass It On" album at Willie Nelson's Pedernales studio. Additionally he has played at several Willies Picnics, Farm Aid, The Palomino Club in Hollywood, California and the stages of Las Vegas. His band, "The T. Gozney Band" was written up in Bill Board magazine as one of the top five bands in the Pacific Northwest. Jr. Cortez is considered one of the "best" keyboard men in West Texas! He has been on the road with Little Joe & La Familia and Sonny and the Sunliners. His incredible sound encompasses everyting from the "honky-tonk piano" of Floyd Cramer to the B-3 organ of Santana and the blues of Ray Charles. This man can flat PLAY the keys!!! He is a integral part of the "OLD HAT" sound. Robin "Guitar Slinger" Leary hails from Wichita Falls, Texas. He has been one of the premier talents in Texas for many years and is heralded as "one of the best" by critics and contemporaries alike. He has a gritty country-blues guitar style that enhances and get the crowd dancing. Joe Dianda, along with his brother Gilbert, gained national fame leading the band "Coyote". "Coyote", on it's own, and as the opening act for Little Joe & La Familia were renowned in Tejano circles and popular throughout Texas and the Southwest. Manuel Burciega has been one of the premier drummers in West Texas for over twenty years, playing with the likes of Frank Trevino and other popular "Latin Bands". Manuel and Joe serve up the "Hot Latin Rhythm" that drives the OLD HAT BAND like a well-oiled machine.
THE OLD HAT BAND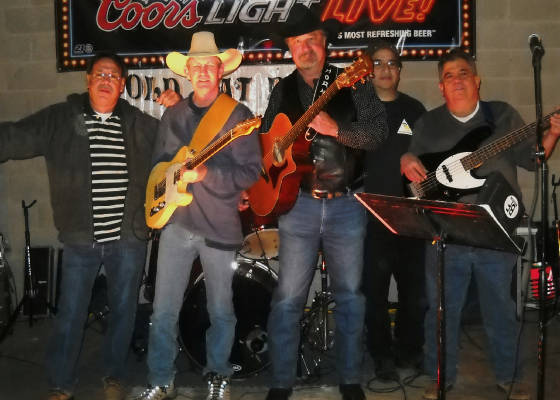 We take an enormous pride in our music. Get the new album, "Legends Before The Fall" featuring T GOZNEY THORNTON with THE OLD HAT BAND. Call or email and let us know what you want.
We look forward to coming into your musical world.
Both DigStation and CD Baby accept the following cards: