---
Tuesday, March 1, 2011
San Angelo Spotlight
T.Gozney Thornton

Sitting on a bench at the old Chicken Farm Art Center T. Gozney Thornton pulls a picture out form his wallet: " I jammed with this guy over the weekend". The man he points to in the photograph is a look alike of the legendary pop country superstar Kenny Rodgers, but it happens to be an old pal of his, Dash Crofts of Seals and Crofts, the 1970s soft rock duo well known for such classics as " Summer Breeze" and "Diamond Girl". But that's just one of the many friends Thornton has made over the years as a musician.
T. Gozney Thornton ( or T. Goz as his friends refer to him ) is a man with such musical stature that not one local Texas artist can hold a candle to him. It took him 25 years to finish and release his first album. Legends Before the Fall, which later became nomiinated for a Grammy award in 2007. I was lucky enough to sit down with the "legend" himself for an interview.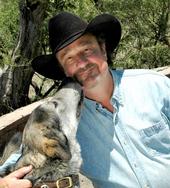 Spotlight: The Album you have out now has an interesting story behind it. How does the saga begain?

Thornton: I was living in Austin, TX and I got to be friends with Willie Nelson and his entourage and Willie was just starting out in the early 70's there himself. I got to open a lot of shows for him at the Alliance Wagon Yard. At the time that was one of the three clubs in Austin on 6th street. I would do Monday nights down there and then I was able to open for Willie and a lot of other people who were up and comers in those days that have since come and gone. Willie had just started a record label called Lone Star which was associated with Columbia Records. He had signed Ray Wylie Hubbard, Cooder Brown, Steve Fromholz and Billy Callery, who he and I wrote songs togather. So, I accepted the offer to record on his label and we went out to Perdenales and recorded all of it ( the album) but also went to Nashvill to recourd some of it. When it was all done, I signed a 5 year contract with a subsidiary of Columbia and they decided they weren't going to release it because they did'nt want Wille to release anymore recordings with any unknowns, because he had done that a bunch just trying to help out his friends. So I ended up having a daughter (Tiana Lee ) and decided that since I had responsibilitys that I should come home and move back to San Angelo and play weekends. The tapes got lost. So a few years ago I thought I'd see if I could find them and put them out again. I found them at Arlyn studio in a back closet in downtown Austin. I dusted them off, played them back (this is 25 years later) and I had gotten my rights back to the recordings by this time. So I digitalized all of the tracks, went back into the studio and added some parts and tried to modernize it somewhat and recorded a couple of new songs to add to it.

Spotlight: What was your First encounter with Wille Nelson like?
Thornton: I was 22years old, I signed with Shelter Records and I was in Tulsa and Leon Russell let me stay at his house. I was getting ready to go into the studio there in a church and this guy knocks on the door and it was Wille Nelson. I did'nt know him from anybody. He asked if Leon was home and I told him no and that he had gone to get some barbeque. So Wille gave me a record to give to him and it was Yesterdays Wine. And that was the first time I met Wille. And he was short haired and clean shaven back then.

Spotlight: Who were the up and comers that you used to open for?
Thornton: I used to do Tuesday nights with David Allan Coe. I opened for the Nitty Gritty Dirt Band here in San Angelo - 1972 at Angelo State (University). That show was phenomenal! It was held in the old gym that then was the new gym... and now they're tearing it down.

Spotlight: Did you record with Leon Russell?
Thornton: No. Leon owned Shelter Records and signed me to the label. But Leon ended up having to break that deal over a $70,000 check made out by his partner Denny Cordell to someone Leon did'nt know.

Spotlight: How did you form The Old Hat Band?
Thornton: I moved back to San Angelo in 1987 and hooked up with Richard Ramirez. We played as a duo for years and then drummer Manuel Burciega joined us and we became a trio. And of course Joe Dianda who used to play (bass) with Coyote who opened for Little Joe y la Familia and we also have Junior Cortez on the keyboards. And I became influenced by these guys and their tejano styles and of course I'm country so we made up this natural blend of Tex-Mex.

Spotlight: You have been working on a project with Augie Meyers from the Texas Tornados. How is it coming?
Thornton: We have finished a song that is on the Texas Music magazine compilation which features 15 Texas artists on the CD. The song is called "Necesito Nada Mas". It's a Polka. I got the Mariachi Azteca out of San Antonio to play with us on it. What a great time playing with those guys!

Spotlight: You're a really good harmonica player. How did you get started playing that instrument?
Thornton: I'm self taught. Doak Sneed was playing harmonica and he and I were a duo back in the late 60's and 70's called Tom and Billy. We went to California together and played some college coffee houses. Doak was playing harp behind me, so I started learning so I could play behind him too.

Spotlight: Did you teach yourself to play guitar too?
Thornton: Yeah, my dad had an old Silvertone guitar and I was about 12 years old and he was trying to learn how to play it and he would tell me not to touch his guitar cause I wasn't old enough. Every time he would leave the house I would go get it and one day he caught me playing it and said, " I give up. You can have it".

Spotlight: You have a stong singing voice. Have you ever had any vocal lessons?
Thornton: My grandmother was a voice teacher and got me singing when I was about three. There's a couple of wire recordings of me singing, but I used to have a real soft voice and I kept working on it to project, so after time, my diaphragm kept growing and growing. People think that I have a pot belly but really this is all diaphragm.

Spotlight: Would you consider yourself to be a veteran of the Texas music scene?
Thornton: Absolutely. I had a kid one time at a show ask me to play some Texas music and I told him,
" Boy... your looking at Texas music".

Thornton and the Old Hat Band's Legends Before the Fall, is a 12-Track album on Thornton's Old Chivo Records label and is available at Hastings and online at cdbaby.com, cduniverse.com, and iTunes.

For more informantion on T. Gozney Thornton and the Old Hat Band, check out their website at www.tgozney.com and www.texmexfandango.com
5:05 pm est
---
BELOW IS A ROGUES GALLERY FOR YOUR ENJOYMENT !

Tiana Lee Thornton
"The Curandera"
and her friend
Augie

Pauline & T.
"It's Never" Too Late

The Old Hat Band
with friends
Flaco & Augie


Johnny Gimble
at work

T. Gozney Thornton
Billy C., Willie & T
(1982)
T, Willie & Richard
(2006)
Stephen Mendell & T
(1982)
Stephen Mendell & T
"Still Working - 2006"